Summer Salad Meal – LIVE ONLINE, INTERACTIVE with Sheila Wrede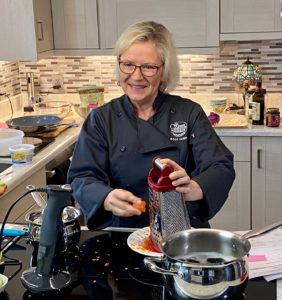 Sheila is cooking for us again! 
Join us at Still and Moving Center on June 28, 2020 from 1:30 to 3:30 pm for a vegan food lesson with a delightful twist! Sheila Wrede will show you how to prepare Summer Salads that are high in protein, fiber and antioxidants.
Cook with Sheila from your home kitchen, and you will have a vegetarian meal for a family of four! The owner of Wellness Becomes You, Sheila, recently attended a plant-based Culinary Institute Boot Camp in Napa, CA, and 
she loves sharing what she learned with you!
Look for menu and grocery list details coming soon!
Dr. Dean Ornish demonstrated in 1990 that eating a whole food, largely plant-based diet could reverse heart disease, as well as provide other health benefits, including weight loss. It's no surprise that this diet works when combined with moderate aerobic exercise, group support and stress management training.
Let's have fun and learn to cook through the magic of Zoom!
Date And Time
Sunday, June 28, 2020
1:30 PM – 3:30 PM HST