Plant-Based Cooking Lesson LIVE ONLINE With Sheila Wrede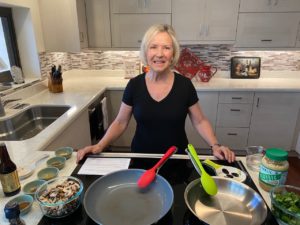 Sheila is cooking for us!
Join us at Still and Moving Center on April 26, 2020 from 1:30 to 3:30 pm for a vegan food lesson with a delightful twist! Let's have fun and learn to cook through the magic of Zoom. We would love for you to join Sheila Wrede from your home kitchen for this cooking class, and when you finish the class, you will have a meal for a family of four! Recipes will be provided when you register.
Sheila is the owner of Wellness Becomes You, and she will show you how to prepare tasty Jackfruit Tacos that are high fiber, low in calories, with gluten-free taco shells. Pair the tacos with Chickpea Coconut Turmeric Stew for the protein content. You will love all the health benefits, too! Sheila learned these recipes at the Culinary Institute Boot Camp she attended in Napa, CA.
You will need a large pot for the stew and a frying pan or electric skillet for the tacos. The stew will simmer as the jackfruit tacos are prepared, so you will need two burners. You need measuring spoons, a one cup measure, and a knife for chopping.
Date And Time
Sunday, April 26, 2020
1:30 PM – 3:30 PM HST