October 27 – How to use Healing Herbs for Vibrant Health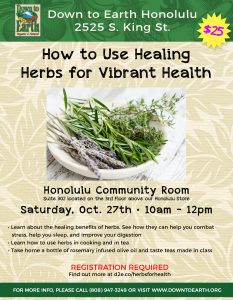 People have used herbs and spices as medicine in their food since ancient times. Learn about the many health benefits of herbs and how to use them in cooking. Learn how to make rosemary infused olive oil and herbal teas!
Learn about the healing benefits of herbs They can help you to combat stress, help you to sleep, and improve your digestion
Learn herbs in use in cooking and herbs to use for teas
Take home a bottle of rosemary infused olive oil and taste teas made in class.
Saturday, October 27, 2018 at 10:00 – Noon